CAMP ZAMA, Japan – The U.S. Army Garrison Japan headquarters building was officially renamed during a ceremony here Wednesday as a tribute to a former commander.
The building, commonly referred to as Building 102 or the Garrison building for the past 70 years, is now named the Col. David B. Hannum Jr. Garrison Headquarters Building.
Hannum, who died in 2010, served as garrison commander from 1975 to 1976 when it was called USAG Honshu, and continued to help others through volunteering following his 31-year Army career.
"Colonel Hannum's leadership of the garrison during his tenure as commander, love of volunteerism and community service, and his lifelong dedication to the military are among the many reasons we decided to memorialize our headquarters building in his honor," said Col. Christopher L. Tomlinson, commander of USAG Japan.
During his military career, Hannum served in the Korean and Vietnam wars and his last assignment was as the installation commander of Fort Drum, New York.
Tomlinson said retirement did not slow down Hannum, who worked several years as the town manager of Putney, Vermont, and volunteered with the fire department, drove a snow plow for the highway department during the winter, and was the town's public health director.
Hannum also worked for the state of Vermont as a local emergency coordinator and served as chairperson of the Windham County Red Cross, in which he deployed to support disaster relief to areas hit by flooding, ice storms and a hurricane in Puerto Rico, Tomlinson said.
"His family shared that he never lost his passion for military service," Tomlinson said, adding that "he continued his support to the military in leading the Fort Drum steering committee to help manage the expansion of the installation needed for the reactivation of the 10th Mountain Division."
Tomlinson said Hannum was chosen from a long list of selectees during a yearlong process to rename the building, which the Army Memorialization Board approved.
"Colonel Hannum's achievements and relationship to Camp Zama just rose to the top," he said, "so we're truly happy to dedicate this building in his honor."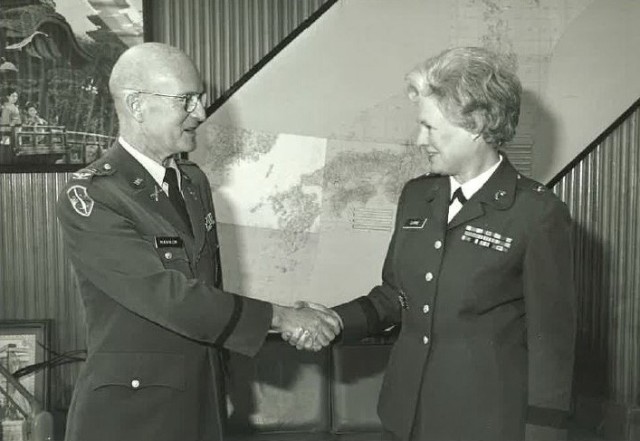 Members of Hannum's family watched the ceremony virtually as Tomlinson and Command Sgt. Maj. David A. Rio, the garrison's senior enlisted leader, unveiled a plaque in memory of Hannum inside the foyer of the headquarters building.
Keith Hannum, the colonel's eldest son, said Camp Zama was one of the highlights of his father's career.
"Camp Zama is a special place," he said. "There is a sense of community and belonging that we all treasured."
As one of five children in the Hannum family, Keith attended Zama American High School and graduated in 1975.
His best memory of his time on post were the people, he said, adding that he plans to attend the high school's alumni reunion in San Antonio, Texas, next month.
Keith described his father as a workaholic who always needed a project to do. He recalled his father had the whole family mow the grassy area between Camp Zama's Eagle's Nest neighborhood and the golf course on the weekends.
"It was the kind of thing he thought was good for us," Keith said.
Keith said his father was all about service in any way. When Hannum was drafted by the Army in 1953, despite already having a job at the Department of Agriculture, he stepped up to the challenge.
"Once that happened, it opened up a whole new world for him and he ran with it," Keith said. "Whatever he did, he committed himself to it completely."
On behalf of his family, Keith appreciated everyone involved in making the project come to fruition, which included a plaque with his father's image and his name on a sign at the front entrance.
"We all formed memories and friendships that we still hold dear," he said about his family's experience at Camp Zama. "That there will now be a tangible memorial to our father's service and time as commander is truly heartwarming and gratifying."
Building 102 was constructed in 1953 as the "2nd Administrative Type Building" across the street from the first administrative building, which is home to U.S. Army Japan's headquarters.
Throughout the years, Building 102 was used by several Army units, including USAG Honshu from 1974 until it was reorganized as the 9th Area Support Group in 1986 and then the 17th Area Support Group in 1987, said Michael Hammond, garrison installation manager.
In 2002, USAG Honshu was reactivated as USAG Japan under the newly established Installation Management Command, where it remains to this day, Hammond said.
Tomlinson said they were grateful to be able to share the moment with Hannum's family, who could be seen on a TV screen in the foyer as they attended virtually.
In his remarks, Tomlinson told the audience the event was a special opportunity to recognize a great American Soldier who dedicated himself to a lifetime of service.
"We could not have selected a worthier recipient to represent United States Army Garrison Japan for many years to come," he said.
Source : USArmy