Secretary of Defense Lloyd J. Austin III thanked Norwegian Defense Minister Bjorn Arild Gram for his country's aid to Ukraine and for the crucial role it plays in the Arctic and North Atlantic.
The two men discussed issues affecting both NATO and the bilateral relations between the two countries during a Pentagon meeting today.
The meeting comes just two weeks after the two defense leaders met as part of the Ukraine Defense Contact Group meeting at Ramstein Air Base, Germany.
Norway is one of the founding members of NATO and has worked alongside the United States from the Middle East to the High North, Austin said.
That level of cooperation and interoperability is especially important in the wake of the Russian invasion of Ukraine. Russian President Vladimir Putin is trying to destroy the international rules-based infrastructure that has prevented a major war for more than 70 years. "Russia's invasion of Ukraine was unprovoked, shameful and cruel," the secretary said. "The United States and Norway stand together in the face of threats to European security."
Norway has provided Ukraine state-of-the-art systems including the national advanced surface-to-air missile system. Norwegian service members are also training Ukrainian service members in new capabilities and are standing alongside NATO allies to defend every inch of NATO territory.
Austin said he is also "mindful of the crucial role that Norway plays as NATO's eyes and ears in the Arctic."
Climate change is opening areas of the Arctic and Russia is eyeing the region as an opportunity. Norway constantly hosts exercises and training events in the region. Austin thanked the Norwegian defense minister for his country's help when a V-22 Osprey crashed during a recent exercise, killing four Marines.
Gram told Austin that the United States is Norway's most important ally and said he welcomes the opportunity to discuss ways to increase cooperation with the United States and allies and partners. "We are in the middle of war in Europe," Gram said. "The Russian invasion of Ukraine is unacceptable."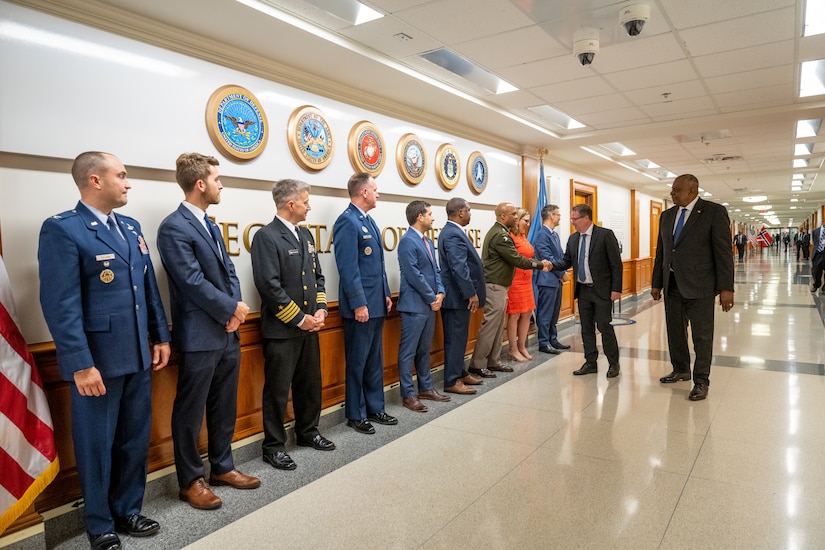 The nations of the region need to work together. "Russia cannot win this," Gram said.
Gram thanked Austin for his personal leadership in the effort to supply Ukraine, and for his efforts to examine the strategic importance of the Arctic. "The United States and Norway are working closely together on intelligence, maritime surveillance, pre-positioning material and reinforcement of forces, as well as training and exercises in all domains," Gram said.