Across the plains of America known as the Corn Belt, farmers are spending their days and nights nurturing, tending to and praying for the wellbeing of this common yet globally significant food.
Scott Haerr, who harvests 4,000 acres of corn every year (an area nearly five-times the size of New York's Central Park), is one. Inside a massive grain silo on his farm in western Ohio, the third-generation farmer examines corn kernels from last year's harvest. "That's some real good corn," he says, sifting through a handful.
But while the quality of last year's harvest may have been good, the quantity produced by US farmers was anything but.
Rising fertiliser and fuel prices saw the number of acres planted fall by 3.4m compared to 2021. On top of that, a drought in the western plains fuelled an increase in the price of US corn on the international market.
"We had a weather-reduced crop, and we had the Mississippi River drying up last fall and early winter that slowed our exports way down," Mr Haerr says. "Because of that, the price of corn went up which made us less competitive."
American farmers' hard work and technological expertise has cemented its place at the top of the pile when it comes to corn exports. Every year, tens of millions of tonnes are shipped from the US to more than 60 countries around the globe.
But its corn superpower status may be coming to an end. In fact, after decades at the top, it is on the verge of being overtaken as the world's biggest exporter of the crop.
Buyers in China – the world's biggest importer of corn – have been cancelling orders from the US, in large part because there are cheaper alternatives elsewhere.
In January, sales of US corn to China were as much as 70% below previous years' levels. And in May, China started buying South African corn for the first time. It is a troubling trend for US farmers.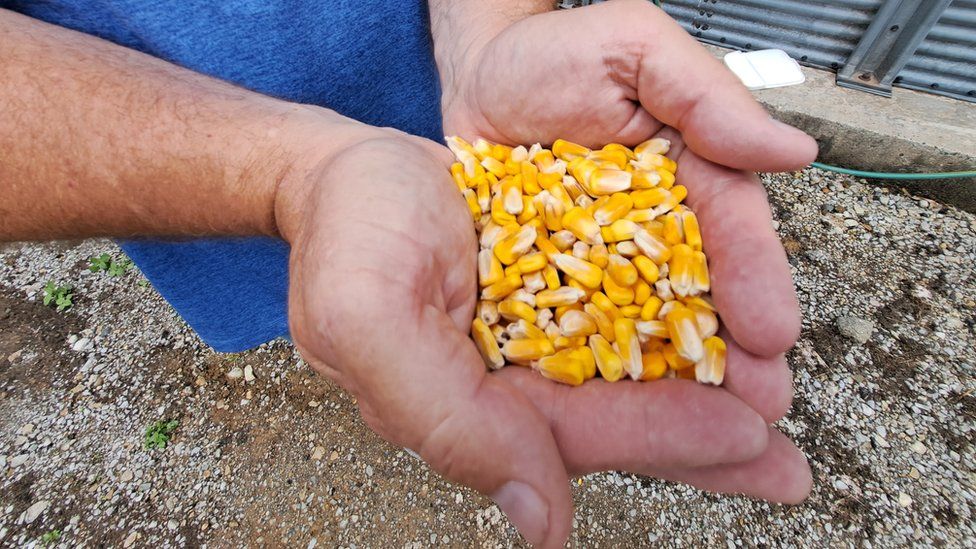 It is not just China backing away from US corn: Reuters recently reported that exports to all destinations excluding China were at their second-lowest in two decades. Mexico, which buys about $5bn (£3.9bn) worth of US corn every year, is moving away from the genetically modified variety, a large amount of which comes from its northern neighbour.
One country alone stands to benefit from this trend – Brazil.
Farmers there have been converting swathes of agricultural land from pasture to corn fields in recent years, experts say. Brazil's additional advantage is that its farmers are able to harvest not one but two crops of corn a year.
"Last year in particular, they had a lot more exportable stock than we did here in the US," says Frayne Olson, a crop economist at North Dakota State University. "The longer-term trend is that Brazil is increasing its corn production, it's becoming a much more dominant player."
China has moved accordingly, increasing its orders of Brazilian corn significantly. The two countries have also signed a series of agreements that will allow more corn be shipped from Brazil to China.
The move by China to diversify food imports is likely spurred by a combination of factors, according to Harry Murphy Cruise, a China economist at Moody's Analytics. Aside from price advantages, increased tensions between the US and China are pushing Beijing to quickly diversify in case things deteriorate.
"Trade is a key tool in the arsenal of all policymakers," he said. "There is a potential that China is using trade as a form of economic coercion."
Mr Cruise said high-profile battles over things like semiconductors, electronics and batteries were not the only examples of how China has changed its trade relationship with the US.
"It's broader than that," Mr Cruise said, noting that China was looking to mitigate risk and shore up supply chains for critical goods.
"Food and livestock feed are about as critical as it gets," he said.
Back in the US, corn prices have been high for many of the same reasons most other products and services are expensive today: inflation. For farmers, the rising costs of machinery, seeds and farmland have eaten into their bottom line.
"When you look at the biggest differential in the cost of producing corn in the US versus Brazil or South Africa or Argentina, it's probably land," says Frayne Olson.
The price per-acre of land in Iowa, the largest corn-producing state in the US, increased 29% in 2021 and a further 17% in 2022, the highest on record. In Illinois, the second-largest producer of corn, farmland rent hit record prices last year.
Economists say, however, that Brazil's rise is not likely to have a major impact on the day-to-day lives of Americans – agriculture does not carry the same economic weight of decades past.
"Agriculture is important – food supplies are critical – but it's not a huge piece of the whole economy," says Mr Olson.
Farmer Scott Haerr, meanwhile, says he is not planning to reduce the number of acres of corn he plants, since the cost of fertiliser and fuel has eased from last year's highs.
"But we are ready to pivot, if we need to," he says. He believes there's little to be done to stop Brazil's rapid rise, but that doesn't mean American farmers are out of the export game.
"Indonesia is not importing any corn right now, but their potential for ethanol (produced from corn) growth is huge," he says. Earlier this year he and other Ohio corn farmers toured countries in South East Asia to hear first-hand what buyers want.
"We need to make sure we are trying to develop new markets," he says.
Source: BBC