South Australian suburb Osborne will host the building and development of "the most complex machinery known to mankind" in a significant step for Australia's AUKUS deal.
About 5,500 people will be employed directly in Osborne – a suburb on the LeFevre Peninsula and located about 21km north-west of the Adelaide CBD – to build the submarines.
South Australian Premier Peter Malinauskas said the role Adelaide would play in the agreement would be huge for the state.
"There can be no doubt about the fact that the AUKUS opportunity of building the submarines here in South Australia represents the greatest opportunity we've had in our state for the biggest step change in economic complexity that we've really seen in the nation's history, let alone South Australia's," he said.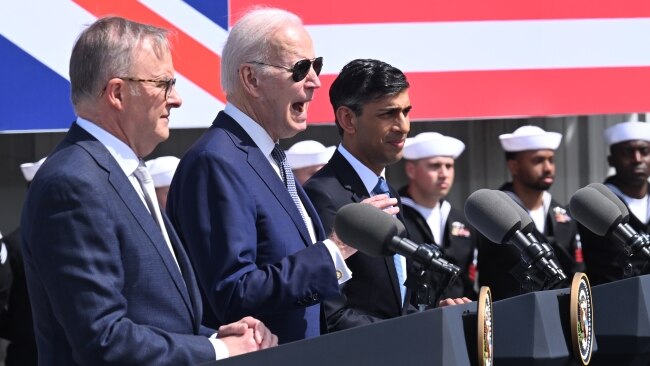 Prime Minister Anthony Albanese announced Australia's role in the AUKUS deal alongside United States President Joe Biden and United Kingdom Prime Minister Rishi Sunak on March 13. Picture: Leon Neal/Getty Images
Prime Minister Anthony Albanese announced that a significant number of jobs would be created in Osborne while having a positive effect on Australia's security and defence capabilities.
"This will create some 20,000 jobs directly over the next 30 years. It will strengthen Australia's national security and contribute to regional stability in response to the unprecedented regional challenges which we are facing," Mr Albanese said.
"It is about building a future made in Australia, by Australians, with record investments in defence, and jobs, and infrastructure. And it's about delivering a superior capability after a decade of inaction and mismanagement.
"At its peak, up to 4,000 Australian workers will be employed to design and build the infrastructure for the new submarine construction yard here. A further 5,500 will be created to build the nuclear-powered submarines in South Australia when the program reaches its peak."
'Up for the challenge': SA Premier 'excited' for building of AUKUS subs
Mr Albanese confirmed that he and Mr Malinauskas signed a memorandum of understanding to ensure they maximise the benefit in South Australia and the benefit to the nation.
The Prime Minister said the agreement with South Australia will provide certainty and stability for South Australians and their workforce for years to come.
"We've had the opportunity to talk first-hand to the workforce here. Skilled workforce – fitters and turners, electrical engineers, machinists. This is what this is about, making sure that those jobs stay here in South Australia," he said.
"What we've done is provide certainty not just for a year, not just for a term of government, but that certainty for decades going ahead.
"It will give confidence to the South Australian economy."
South Australian Premier Peter Malinauskas has welcomed the state's involvement in the AUKUS deal. Picture: NCA NewsWire / Brenton Edwards
The AUKUS deal will cost taxpayers an estimated $368 billion, with the first submarine set to be completed in under two decades.
The program will see Australia develop eight submarines up until 2055.
Source : SkyNews