How the Vulfpeck picker travels the funk fantastic—with a compact pedalboard, a two-amp setup, and some classic-style axes.
Theo Katzman plays with a fluency and fire that makes this guitarist, producer, singer, and songwriter an MVP of modern, funk-fueled rock and pop. At a recent gig at Nashville's Brooklyn Bowl outpost, Katzman—who's also a member of the formidable Vulfpeck collective—invited PG's Rig Rundown team to soundcheck, to see the gear that makes his tone sing. And Katzman's tech, Nick "Turk" Nagurka, provided assistance.
Brought to you by D'Addario XS Strings.
Stripped Strat
Theo Katzman's No. 1 is a Fender 1962 reissue that he's had since he was 16. He stripped the Strat's finish down to the bare wood, and then added an Ilitch Back Plate Hum Canceling system, which takes the noise out of the stock single-coil pickups. The Strat stays strung with D'Addario NYXL .010 sets. When Katzman plays with a pick, he uses Strum-N-Comfort SNC-ST/EXH/6 Sharktooth 1.5 mm Heavy Pearl Celluloids.
Hole-y Moley!
Katzman's Tele is an $800 parts guitar with TV Jones pickups that he purchased on Reverb. It lives in open Eb and also has D'Addario NYXL .010s.
Black Hat Strat
This Japan-built '62 reissue Strat has an oddball headstock, with what looks like black epoxy or resin covering most of what's at the top of its Mike Cornwall neck. It's tuned in open D and is used primarily for slide. The stings? Yep, D'Addario NYXL .010s.
Princeton Grad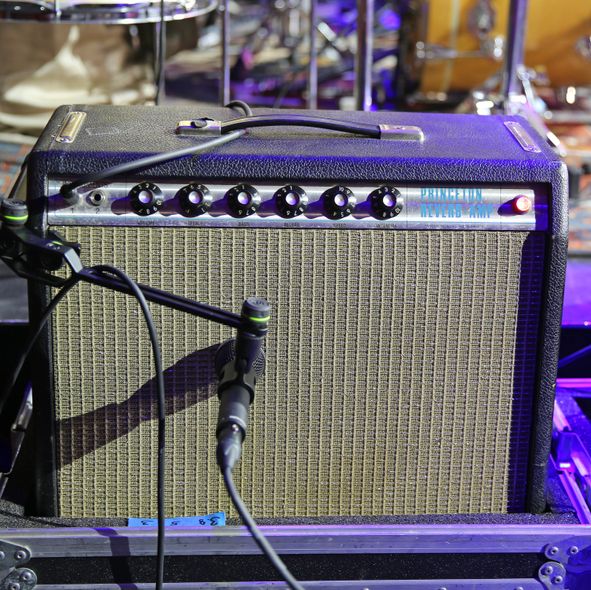 Katzman uses two amps, sending a dry signal to his Benson Nathan Junior and a wet signal to his 1968 Fender Princeton Reverb loaded with a Celestion Greenback 12. Both amps face 90 degrees offstage, to prevent hitting the front row with a laser beam of awesome. The Princeton gets a Beyerdynamic M88, which complements the punchy midrange of the amp with a healthy proximity effect and rounds the top end out a bit.
Benson, Benson, Benson
The Benson has a bit more grind and a more controlled tone. He uses a Sennheiser 906 for a dry, clear sound with minimal proximity effect. Both amps feed into the in-ear-monitor mix, hard panned left and right. Since there's some degree of modulation from the pedalboard, that helps Katzman enjoy a sense of space in his sound. The front-of-house mix typically uses the Benson, too, since it has a more refined sound.
Theo Katzman's Pedalboard
Source: Premier Guitar