WASHINGTON — Ending weeks of chaos, the U.S. House finally elected a speaker Wednesday, one few had expected: Rep. Mike Johnson, a conservative Republican from Benton, in northwest Louisiana.
Johnson, the first-ever House speaker from Louisiana, was supported by every one of the 220 Republicans present to win the speakership, something the three previous GOP contenders couldn't manage. He needed 215 votes to claim the gavel.
"The people's House is back in business," Johnson said after being sworn in as the leader of the House Republicans, administrator for the full chamber, and just behind the vice president in the presidential succession.
"You're going to see an aggressive schedule in the days and weeks ahead. You're going to see Congress working as hard as it's ever worked and we are going to deliver for the American people," Johnson said. "We've gone through a little bit of suffering. We've gone through a little bit of character building, and you know what has produced more strength, more perseverance and a lot of hope, and that's what we're about to deliver to the American people."
His ascent means both of the top leaders in the House are from Louisiana – Johnson as speaker and Rep. Steve Scalise, of Jefferson, as majority leader.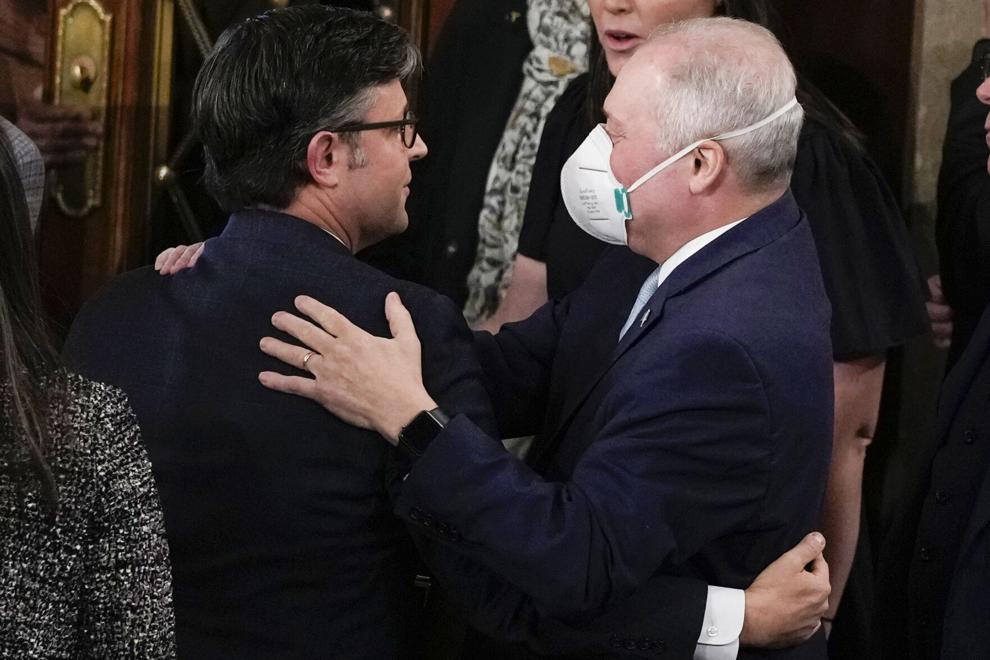 Johnson, 51, is new to the administrative gig and will lean on Scalise and House Judiciary Chair Jim Jordan, R-Ohio, for advice, according to two members of Congress who spoke on condition of anonymity about private conversations.
Both Scalise and Jordan sought the speakership but couldn't hold together the fractious GOP coalition and had to abandon their bids. Both are close to Johnson, Scalise and Johnson have known each other since their LSU days, and Johnson has visited the Holy Land with Jordan and the two men's spouses.
After Scalise, Jordan and House Majority Whip Tom Emmer, of Minnesota, all saw their campaigns for speaker flame out, House Republicans quickly coalesced around Johnson, who seemed to have fewer committed opponents than anyone else.
"Those of us who have known Mike Johnson for a long time – and I've known him maybe longer than most – I've seen a commitment, a self-service commitment to things bigger than himself going back to my days in the State House," Scalise said after the election. "When he came to Congress, those same principles followed him."
Before Wednesday, Johnson typically moved through the Capitol with a single aide, usually without attracting attention. Johnson would leave the Capitol Wednesday night with a large, 24-hour security detail. He'll also be moving to a secure office overlooking the National Mall, just off the Capitol's rotunda, next door to Scalise.
Johnson's first order of business is to try and bring together the various factions of the Republican Conference that tussled for 22 days before uniting around him. Without a leader, the House was unable to conduct any business.
His first big deadline is Nov. 17, when authorization to fund the federal government runs out. Without legislation to pay for it, the government will have to shut down. Conservatives are wanting to pass bills that appropriate money to individual agencies – rather than a so-called omnibus bill that funds the whole government – and Johnson will focus on bringing those to the floor as soon as possible. But there likely won't be enough time to do that, and if he wants to avoid a shutdown, Johnson will likely have to craft a single resolution that will continue government operations into 2024.
Flood insurance and the Federal Aviation Administration, which oversees airline travel, also expire on Nov. 17.
The Senate is working on a $105 billion request from the president that includes aid for Israel, border security and Taiwan as well as Ukraine. Many House Republicans, including Johnson, in May opposed giving Ukraine $39.8 billion in military aid, saying it did not come with sufficient oversight.
One of Johnson's first challenges will be to expand his staff of 13, most of whom dealt with local issues and the armed forces – Barksdale Air Force Base in Bossier Parish, and the Army's Joint Readiness Training Center and Fort William Henry Johnson, both in Vernon Parish, are all in Johnson's district. As speaker, Johnson will be receiving sensitive security briefings and will be dealing with complex issues, such as the federal budgets, for which he will need expert advice.
Few would have predicted Johnson's rapid ascent in the wake of former Speaker Kevin McCarthy's Oct. 3 sacking, led by a small band of arch-conservatives. He's among the least-tenured members of Congress to ever become speaker, with just six years in Washington.
He is largely unknown off Capitol Hill, and that has worked in his favor.
Scalise, Emmer and Jordan all had longer histories in Congress, and each had accumulated enemies.
Johnson is an evangelical Christian conservative who is close to the Louisiana Family Forum, the influential religious conservative group in Baton Rouge. He graduated from LSU's Paul M. Hebert Law Center and spent his legal career, in his words, "defending religious freedom" and "Biblical values."
Scalise won the first contest among Republicans vying to replace McCarthy, besting Jordan, a pugilistic supporter of former President Trump, in secret balloting. But Scalise bowed out after it became clear he would not be able to unite the entire GOP caucus.
The same fate befell Jordan, Republicans' next choice for speaker.
Scalise was held suspect by conservatives because of his willingness to work across the aisle. Jordan was challenged by more moderate Republicans for being too combative.
After Emmer couldn't muster up the votes Wednesday, Johnson, who had finished second to Emmer among nine candidates who sought the speakership following Jordan's collapse, seemed to emerge as a consensus choice.
Johnson was born in 1972 and grew up in Shreveport. His late father, who died in 2016, was a Shreveport firefighter who was badly burned in a 1984 blast that killed another firefighter.
Johnson attended Captain Shreve High School, a public school, before heading off to LSU. He and his wife, Kelly, have four children. They live in the small town of Benton, the parish seat of Bossier Parish.
Johnson has been active in political causes for decades, mainly as a lawyer defending evangelical causes. But his career in elective politics has been short. He was elected to the Louisiana Legislature in 2015, where he successfully sponsored an anti-abortion bill that criminalized physicians who use "dismemberment" in pregnancy termination procedures.
He almost passed legislation that would have legally protected pastors who refused to conduct marriage ceremonies that was contrary to church doctrine. Later, in Congress, he voted against legalizing same-sex marriage.
In late 2016, Johnson won the 4th Congressional District seat, which is based in Shreveport and covers a swath of northwest Louisiana.
After President Donald Trump lost the 2020 election, Johnson wrote a court brief that argued that polling irregularities stemming from COVID protocols invalidated the results in four key states and therefore negated them. He also voted against certifying President Joe Biden's victory.
Johnson has advocated continuing an investigation by the House that could lead to Biden's impeachment. Though no hard evidence of wrongdoing has been uncovered, Johnson argues Congress is required by law to look into suspicious activities.
Nonetheless, Biden phoned Johnson to congratulate him on his election, according to the White House.
"As I said when this process began, whoever the speaker is, I will seek to work with them in good faith on behalf of the American people," Biden said in a statement. "We need to move swiftly to address our national security needs and to avoid a shutdown in 22 days. Even though we have real disagreements about important issues, there should be mutual effort to find common ground wherever we can."
Trump was more bullish. "I think he's gonna be a fantastic speaker," the former president said Wednesday, according to The Associated Press.
Source: The Advocate