A teenager in the US state of Iowa who beat his teacher to death with a baseball bat over a bad grade has been sentenced to life in prison.
Willard Miller, 17, pleaded guilty to first-degree murder in April for his role in the 2 November 2021 killing of Nohema Graber, a Spanish teacher.
Miller and co-defendant Jeremy Goodale, now 18, attacked Ms Graber, 66, after she marked down Miller's work.
Aged 16 at the time of the murder, both were charged as adults.
Goodale's sentencing is scheduled for August.
On Thursday, Miller was sentenced to life in prison with the possibility of parole only after at least 35 years.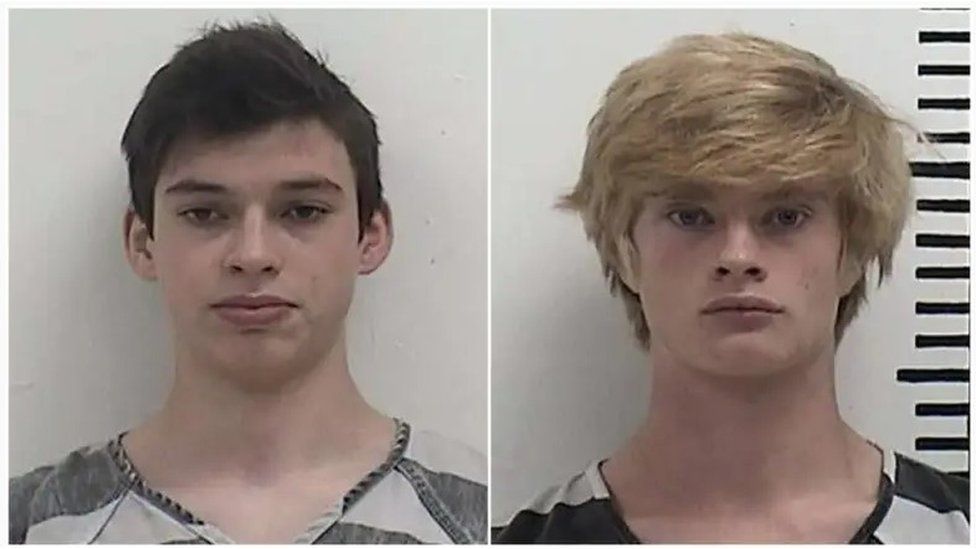 He was also ordered to pay at least $150,000 (£117,000) in restitution to the victim's family.
Before delivering his sentence, Judge Shawn Showers rejected defence arguments that Miller was too young at the time to understand the gravity of his actions.
"Evil does not have a birthday," he said.
Family members of Ms Graber told the court they did not believe Miller was remorseful.
Several relatives mentioned that the murder led to the early death last month of Ms Graber's husband, Paul. He was buried a day before Thursday's sentencing.
Miller apologised to the community and turned to address Ms Graber's relatives seated behind him.
"I am sincerely sorry for the distress I have caused you and the devastation I have caused your family," he said.
Pleading with the judge to forego the maximum sentence, Miller said: "I don't want to be institutionalised so long that I forget who I am and where I come from."
Prosecutors said the evidence showed both Miller and Goodale had bludgeoned Ms Graber with a bat during the attack in Fairfield, a town of fewer than 10,000 people that lies 100 miles (160km) south-east of the state capitol, Des Moines.
The day after the attack, police found the mother-of-three's body hidden under a tarpaulin, wheelbarrow and railway sleepers in a local park where she used to walk after school.
In a police interview, Miller described frustrations with the way Ms Graber taught Spanish.
He said his marks in her class were lowering his Grade Point Average, an important score during applications for US colleges and scholarships.
Miller met Ms Graber at Fairfield High School on the day of the murder to discuss his poor grade in her class. Goodale was also a student there.
Mexican-born Ms Graber had been employed at the school since 2012. She was part of the town's small but growing Latino community.
Source: BBC