On the night before the most important basketball tournament he'd ever played, Peter Berry spun his wheelchair down to the dark, empty lobby of a TownePlace Suites outside Whitewater, Wis., and contemplated the meaning of life.
Peter's roommate was asleep upstairs. Everyone on the University of Alabama men's wheelchair basketball team was exhausted. They'd ridden 16 hours on a bus from Tuscaloosa the day before. Then they'd spent this day simultaneously preparing for their first-round matchup and keeping their minds off the pressure: a few heated snowball fights, a few rounds of bowling, a few hands of cards.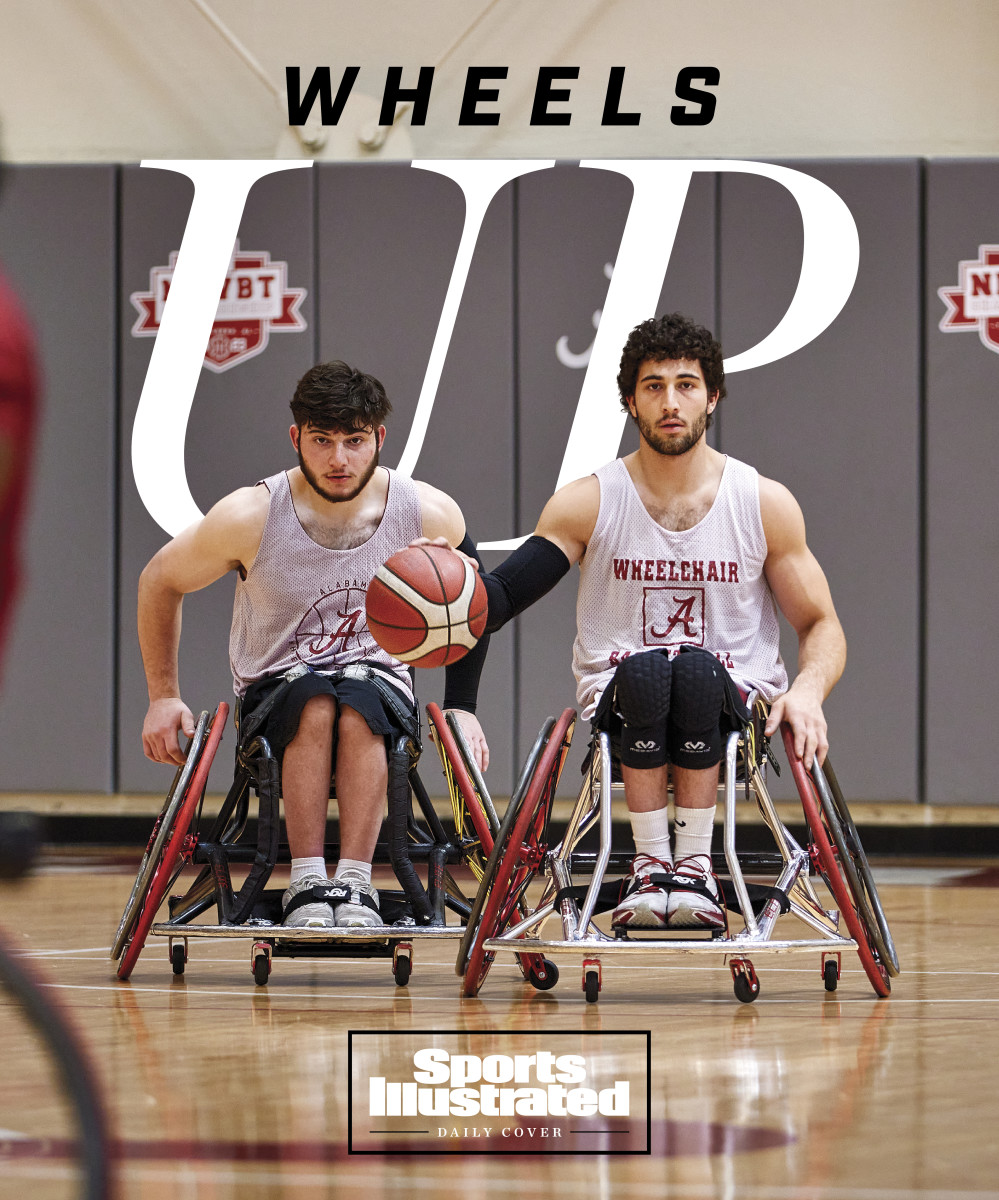 This wasn't how most college students want to spend spring break. Late winter in Wisconsin is dreary and cold, with rain and snow and cutting winds. But there was nowhere Peter would have rather been than in the gym at Wisconsin-Whitewater, one of a dozen schools with a men's wheelchair basketball team and the host of this year's collegiate nationals.
Ever since a car crash at age 9 exploded his life—paralyzing Peter and his younger brother, Aaron, badly injuring their younger sister and killing their parents—wheelchair basketball tournaments have been the best times of Peter's year. He loves the competition, certainly, but beyond that, he loves being surrounded by people who understand his life. He doesn't have to explain a thing; everyone knows the danger of pressure sores and understands the extended bathroom routines. He loves how the gyms smell like burnt rubber, from wheelchair tires skidding against the court, and of burnt skin, with bare hands slamming wheels to pinpoint stops. At tournaments, people don't ask Peter whether they can pray for him. When that does happen, like at a Tuscaloosa grocery store a few weeks before, Peter knows it comes from a well-meaning place. But it drives him wild.
"You're not asking to pray for anyone else," Peter says. "You obviously think something's wrong with me. But I'm not living to walk again. That's not my purpose. I am well. I am healthy. I have everything I need and I am grateful for what I have. If I was only living to walk again, I'd not be able to focus on what I can do when I'm not walking."
The Berry brothers are in many ways opposites—Peter, 21, is a driven and intense business major, while Aaron, 18 months his junior, is relaxed and chill, a music production major who loves making beats and sending them to friends. But together the two are a force of nature, with Peter one of the top young paralyzed players competing under the National Wheelchair Basketball Association, the sport's U.S. governing body. Aaron, too, is a key cog for powerhouse Alabama.
"Peter's going to be a Hall of Famer if he keeps it up," says Alabama coach Ford Burttram, a runner-up to Vince Carter for Mr. Basketball in Florida before a car crash paralyzed him at 16. "There's a presence about him. People turn and say, 'Who's that guy?' Then you dig into his story and you understand why. Peter is the one you can't break."
Peter has come to realize his story can have a greater purpose: to further expand the already growing footprint of adaptive sports and to use wheelchair basketball as a force for changing perceptions of disabled people.
It's been a watershed decade for adaptive sports. The 2012 London Games were the first time para sports were fully integrated into the Olympic planning process. U.S. viewership for the Paralympics doubled between the Rio '16 and Tokyo '20 Summer Games as well as between the PyeongChang '18 and Beijing '22 Winter Games. Big-time sponsors are now ponying up big-time money for endorsements.
In 2019, the U.S. Olympic Committee changed its name to the U.S. Olympic and Paralympic Committee, reflecting an organizational goal of elevating Paralympic athletes. Meanwhile, there is a nascent movement to integrate adaptive sports into the NCAA, a cause Peter plans on pushing at Alabama.
In the darkened lobby, as the NCAA men's basketball tournament flickered on a nearby television, Peter sat in the dark, with curly hair and fake diamond earrings, the chiseled upper body of someone who benches 255 pounds and the withered lower body of someone who hasn't walked in a dozen years. He pondered his future.
He'll likely play in the Paralympics, perhaps as soon as Paris 2024 as one of the youngest Americans on the team. He might play professionally in Europe; it's hard to make a decent living from wheelchair basketball, but what an experience. He wondered what would come after that. He kept thinking about two things: how important basketball is and how unimportant basketball is. He was nervous about the tournament—but he also knew basketball was never going to be his end. Basketball was a means to a different end.
He knows the unique power of adaptive sports in changing wider perceptions of disabled people. Maybe a generation from now there will be elementary-age kids, both able-bodied and disabled, playing wheelchair basketball or sitting volleyball in gym class.
"What people struggle with is finding and maintaining their purpose in life. You know?" Peter says. "Finding my purpose—it's been a struggle. I'm not there yet. But a big part of it is doing justice to my story. A lot of people don't have confidence to tell their story. But this team—our coach, and every one of us—has an incredible f—ing story to tell."
The first chapter of Peter and Aaron Berry's story is the happy part, the carefree part and the part that makes the second chapter all the more devastating.
They lived in a white-brick house on a corner in the Houston suburbs, a family neighborhood where kids played regular kickball tournaments in the street. Peter and Aaron romped in the nearby bayou, catching tadpoles and slugs and sometimes poison ivy. They climbed trees and rode bicycles without hands. They went to the same Jewish day school as their cousins, who lived nearby. Life wasn't perfect, but it felt close.
Their parents were incredibly active. Josh, their father, ran his own medical-staffing business. Their mom, Robin, was an event planner. Josh always chased self-improvement: He tried being vegan, practiced meditation, ran for local office, studied wine. Robin ran half-marathons and got energy from others; in social settings, people were drawn to her. Josh took his kids on date nights; Peter still remembers the bananas Foster they split at House of Pies. The Berrys were an athletic family; a grandfather played for the Houston Oilers in the 1960s, and plenty of relatives played collegiate tennis. The boys played everything together: soccer, baseball, basketball, football. Aaron was the small, thick bullet, while Peter was taller, a natural athlete who would have been a perfect quarterback. "He fit that mold," one of his uncles, Matt Berry, says. "He's got a really good, calm head on his shoulders."
The second chapter of Peter and Aaron's story is the impossibly difficult part. It was Fourth of July weekend 2011, and the Berrys road-tripped to a Colorado mountain lodge. Aaron, then 8, got out of the family minivan in shorts and was stunned to see snow. The family hiked together. They shared meals. They laughed; they bickered. Aaron was angry when their sister, 6-year-old Willa, threw up on his monogrammed Finding Nemo towel. The boys pleaded with their dad to buy them bulky Swiss Army knives. He got them smaller pocketknives instead.
The family headed back for the long drive home. In the desolation of West Texas, Aaron fell asleep in the back seat, but his siblings stayed awake. On the opposite side of the highway, another driver was changing compact discs, not paying attention to the road.
The car drifted.
"I've never spoken to either of them about that night," says Aaron. "Part of me wants to sit them down and ask them what happened. But another part of me, it's like I'm better off not knowing."
In Houston, police arrived at Adam Berry's house early the next morning. His oldest brother, age 41, and his sister-in-law, 40, were dead. His nephews were paralyzed; there was a good chance Aaron may not live. Willa was full of shattered bones but was in the best shape of the five.
As police recounted what happened, Adam felt suspended in time. His eyes fixed on his running shoes. He wanted to lace them up and run and run and run. If he ran long enough, he thought, maybe this wouldn't be real.
Instead, Adam booked the next flight to Lubbock to be with the boys at the hospital. In the airport security line, a stranger struck up a conversation.
"How you doing?" the man asked.
"Not good—not good at all," Adam replied.
"It's another day, and you're alive and breathing," the man said. "Be grateful."
As he passed through security, those simple words swirled around Adam's mind. Words like those helped the family frame their uncertain future. "I thought about that, and it's real, it's true," Adam says now. "The world is messed up. Anything can happen at any time. We all hear that, but we don't know it until it happens to us. But right there, I thought, Wow, that's true: Be grateful, somehow."
Peter had stayed awake for all of it except the helicopter ride, regaining consciousness in the operating room and staying awake even for the CAT scan. Aaron was in a medically induced coma for a week. The boys were still in the hospital during their parents' funeral.
"The hospital part was a whirlwind," Matt Berry says. "It went from, 'Are they going to survive?'—yes—"to, 'Are they going to walk?'—no—"to, 'O.K., are there any neurological problems?' "
There were no neurological problems. The boys would live. And their parents had listed Matt and his wife, Simone, whose kids went to school with Peter and Aaron, as guardians. "We just said, 'We're all in this together—we're all going to help the kids,' " says Adam, who also lived nearby. "It wasn't a question."
The boys had suffered virtually the same injury to their T10 vertebrae in the middle of their spines, leaving them paralyzed from the waist down. Peter hardly ate for weeks, but Aaron was in rougher shape. He'd also broken his neck, and when he woke up in the hospital, itchy and sweaty and neck immobilized in a halo, he had no idea what had happened. Through tears, the family explained that his parents weren't coming back. The children would move in with Uncle Matt and Aunt Simone and their cousins. At their ages, the boys didn't grasp how profoundly everything had changed. Instead, they thought as kids do.
"In my head," says Aaron, "it was like we were gonna have hella sleepovers, just hanging out all the time."
The boys went to Shriners Children's Chicago for months. Aaron was still in the halo; he woke up multiple times each night, his back impossibly itchy. Nurses doused it in cornstarch to relieve the discomfort. Once a week, doctors loosened the screws and put a hot rag on his back: "The closest I've ever been to heaven," he says.
For months, Simone stayed by their side, from intensive care in Lubbock to a trauma unit in Houston to Shriners to a rehabilitation center in Houston. They talked about their parents frequently, but Simone kept their minds focused on achievable goals: turning their heads, progressing in occupational therapy, treading water for 20 minutes. Looking back, the boys would think it was weird how delayed their grief was for their parents' deaths. But you can't grieve when you're learning how to live.
Before they headed back to Houston, Simone asked the advice of the Shriners doctor, an expert in pediatric spinal cord injuries. "Don't raise them like they're victims," he told her. "Raise them as Peter and Aaron. They're going to be able to do everything they want to do."
They went back to the same school but a different life, Aaron in third grade, Peter in fourth. For the next decade, until Peter left for college, they shared the master bedroom at their aunt and uncle's house. They learned life as paraplegics: the drawn-out morning routine, the daily skin checks for pressure sores, the erratic blood pressure and body temperature, the challenges of getting in and out of the shower and the car. One weekend, not long after they left the rehab hospital, they went to a wheelchair basketball tournament. They asked the coach whether they could learn. "We practice Tuesday nights," the coach replied.
"Wheelchair basketball was a lifesaver," Adam says. "It put them back in the arena, just being a sports kid."
O.K.—you're screwed," a close family friend yelled down to them.
Peter and Aaron Berry, then ages 13 and 12, were in the 8-foot-by-16-foot enclosed court outside Matt and Simone's house. The boys were seat-belted into their chairs, working on shooting form, when the friend flipped them to the ground.
"I'm not going to get you back up until you get up yourselves," he told them.
The boys wiggled and struggled. Their middle-school frames weren't fully developed—at this point, neither had the strength to make a shot outside the paint—but the older friend would not help. Concrete scraped their skin. For a few long, uncomfortable minutes, their friend watched, his eyes sending a message: Get up.
Peter maneuvered his chair so it rested on its side, balancing his right wheel on the ground. He pushed the cement with his right hand, lifting himself off the ground, and with his left hand grabbed the chair's frame. Push with one hand, pull with the other, teeter upward—and he was upright again. Soon, Aaron was upright, too.
The boys steered straight into life's difficulties. The family never parked in accessible parking spots. If sidewalks were cracked, Simone said that's the real world—figure it out. "We're not going to complain—we're going to maneuver around it all," she said.
Their cousins would get in wheelchairs and mess around with them on the basketball court: "It's one of the hardest things ever," says Noah Berry, who plays tennis at Cal Poly. "You play for 20 minutes, and your arms are destroyed." The boys went to wheelchair basketball camps at Alabama, where a $10 million facility was the crown jewel of collegiate adaptive sports, a rare center designed specifically for para athletes (even if it wasn't under the athletic department, instead housed in the College of Education).
While Aaron grew into a solid performer, Peter soon became one of the top young wheelchair basketball players in the nation, recruited by Alabama at age 16. The sport returned to him things that were taken away after the accident: an outlet for his competitive spirit, an arena where he could shine.
"Peter Berry was born and destined to be a superhuman," says Trice Ham, the brothers' youth coach for TIRR Memorial Hermann Hot Wheels in Houston, a wheelchair basketball team sponsored by a rehabilitation hospital. "It doesn't really matter what direction Peter's life had gone—he was going to be a force for good on our planet. Wheelchair basketball is more an outlet for who he is than a crucible that made him who he is."
There was no better life coach than wheelchair basketball. The sport is basketball meets football meets rugby, a full-contact endeavor where fingers are smashed between wheelchairs, where hands are bloodied and cracked and bruised after a 40-minute game, where first-time fans are horrified when a paralyzed player spills to the ground—and amazed when that player is rolling back toward the action a few seconds later. When Peter hears people talk in admiring voices about how "inspiring" wheelchair basketball is, he gets pissed off—"Oh, look, disabled kids in chairs!" is how Peter puts it. There's nothing feel-good about wheelchair basketball. It's war.
"We say it's a competition, not a charity," says Ham. "These kids get treated like a charity their whole life. 'You're late to class? It's O.K., because you're in a wheelchair.' 'You didn't write your paper? It's O.K., because you're in a wheelchair.' But sport is the great equalizer. You're out on the court, and I'm going to push you until you throw up."
From a distance, wheelchair basketball looks the same as stand-up basketball: same court dimensions, same basket height, same three-point line. But the sports are cousins, not brothers. Wheelchairs flatten the dimensions, turning a vertical game horizontal and making spacing even more vital.
"There's a true progression, an art, a dance," Peter explains. "You have to have a feel for it. You can develop your choreography, but you have to have that rhythm in you. Like chair positioning—giving an inch of space or not can be the difference of getting blown by or scored on. You can lock a team's chairs up, prevent them from doing anything at all, but it takes a cohesive unit."
The players on the court at any time will have a range of disabilities, from below-knee amputations to paralysis. A starting five where each player has, say, one amputated leg would have an enormous advantage over a starting five where each player has paralysis, so players are assigned one of eight classifications. They range from a 1.0—players with no trunk control, whose disabilities most significantly impact physical activity—to a 4.5, the least-impaired players, with no restrictions in trunk rotation or leaning forward or sideways.
Lineup construction becomes like chess. A five-person lineup cannot exceed 14 points in both college and Paralympic play. So a lineup with two 4.5s must be rounded out with three low-classification players—say, two 1.5s and a 2.0.
Each classification has specialized roles. Peter is a 2.0, able to lean forward and rotate his body slightly but unable to lean to the sides; Aaron is slightly more disabled, with his neck injury and hip dysplasia, and is a 1.5. Alabama's top scorers, graduate student Ignacio Ortega and freshman Tim Houston, are both 4.0s.
As a 1.5, Aaron is in a supporting role, similar to an offensive lineman in football. He seals off opposing defenders so the 4.0s and 4.5s—high-pointers, as they are called—can get open. The sophomore is a speedy defender in Bama's pressing lineup. He can play an indispensable role without even attempting a shot, doing the dirty work à la Draymond Green. "If you look at the stats, I don't do s—," Aaron says. "But look at how the big gets into the paint. We make that happen."
Peter, a junior, is so valuable because he's a 2.0 whose talent allows him to play above his classification. He brings the ball up the court, dribbling at least once for every two pushes, and he's a dynamic passer with elite court vision. He scores plenty, banking in midrangers and occasionally draining threes. (Try shooting from 22 feet out, seated and without any lift from your legs. It's no joke.) Peter also does the dirty work, sealing off defenders in the backcourt as Ortega rolls out on a fast break or banging his chair against ballhandlers to knock them off their game.
"He's the best athlete you've never heard of," says Ham, his youth coach. "If he were an able-bodied basketball player, we'd be talking about him for the draft lottery."
But that was not Peter's lot in life; this is. And as he sat in the hotel lobby in Whitewater, antsy for the tournament to start, Peter wrestled with the meaning of his life's journey. He spoke of the old maxim that everything happens for a reason.
"That statement, for years, I thought was complete bulls—," he says. "What type of good is worth such loss? I haven't created an answer, and I don't think there is one. But to persist—and to continue to move forward. You might not have your why. But you do have the ability to make the best of your situation now."
Peter continues: "Whatever I've been through, someone else has been through something worse. Not to belittle my tragedy, but it's true. If you allow misfortune to happen in vain, whatever you believe in, you failed God's challenge. You failed in your purpose if you can't do justice to your story and make the most of what you have. I struggle with that the most—finding that why. But I've come to realize: I don't have to know why it happened."
Acold Saturday morning broke in Wisconsin: championship day. Going in, the Alabama players had predicted this title matchup, against top-seeded Arizona. The Wildcats had beaten them in the regular season, causing Bama to enter as the tournament's second seed.
This year's Alabama team was good—really good. The Tide had lost the title game in 2022, but this squad seemed more cohesive, more attuned to one another. Peter was the team's heartbeat: speedy and relentless, a physical floor general in the key of Chris Paul, the team's most commanding presence.
Getting to the title game had not been easy. A second-round tilt against Illinois nearly knocked Alabama out. Simone's heart remained lodged in her stomach the entire game, until Peter sealed it by knocking down five free throws in the final minute.
The morning of the finals, Peter was nervous.
"I'm afraid of folding to the pressure," he admitted before adding, "The closer it gets to game time, the fears subside. You just believe. I don't have any other option."
In a tucked-away alcove before tip-off, Burttram huddled his team up to talk fundamentals: Force Arizona to shoot from outside, be sure to box out, watch for cherry-pickers. With his 2-year-old son on his lap, the coach talked about their team as family. "Go be proud of yourselves," he said.
Simone sat behind Alabama's bench, her hands clasped. The clank of metal wheelchairs slamming against one another echoed. Peter missed his first few shots. Arizona's star hit a three and stared down the Bama bench. The game seesawed; Alabama led by four at half.
"Twenty more minutes!" Alabama's assistant coach yelled.
The start of the second half did not go well for the Tide. They missed layups. Ortega turned it over. With seven minutes left they were down seven, but they crept back—not just a great wheelchair basketball game, but a great basketball game, period.
"I want this so badly for them," Simone whispered.
Up one with a minute left, Alabama missed a layup, then Arizona missed a jumper, then Ortega made two free throws with 30.3 seconds left. Arizona called a timeout, drew up a play, launched an open three—and missed. Ortega clinched it with two free throws: Alabama won 73–68. It was the program's fourth national title since 2013, but Peter and Aaron's first.
Later, the brothers would talk about how, as the final seconds ticked off the clock, they thought of how grateful they were to even be here. Peter looked to the ceiling and thought of his parents. The brothers didn't want to be defined by the worst moment of their lives. They spoke of how far they had come, of living in their parents' memories, of the power of sport changing perceptions of disabled people. And they spoke about how much further they'd go together: "We've always been a team of two," Peter says.
When the buzzer sounded, Peter spun around and looked toward the Alabama bench. His brother sprinted toward him. Their chairs smacked against each other, and the brothers embraced, slamming each other's backs until Aaron's wheelchair tipped backward, spilling him to the court. Peter reached down, and it took only a couple of seconds for Aaron to get back up.  
Source: Si