The state continues to get hit hard by heavy rain and snow.
Flood watches are in effect for more than 26 million people in California, which has already been ravaged by a series of catastrophic storms.
Two Pacific storm systems are forecast to bring precipitation to most of the state through the weekend. The widespread deluge is leading to flooding concerns in many spots that have already been inundated recently.
The systems are expected to bring "heavy lower elevation rain, significant mountain snow, and strong winds," the National Weather Service said in a bulletin Saturday.
Among the impacts so far, the Sacramento County Office of Emergency Services issued an evacuation warning Saturday afternoon for several areas amid a flood threat. Placer County authorities also reported roads closed Saturday due to falling boulders and erosion from the runoff the area has received.
The first system is expected to bring heavy rain across California as it moves inland Saturday evening. Rainfall of 2 to 3 inches is possible along the coast, which could lead to "localized instances of urban and small stream flooding as well as mudslides," the National Weather Service warned.
Lighter rainfall is possible on Sunday "with another ramp-up late Sunday into early Monday ahead of a second system," the agency said.
Wind advisories are also in effect along portions of the coast and Central Valley for sustained winds upwards of 20-30 mph and gusts of 50 mph.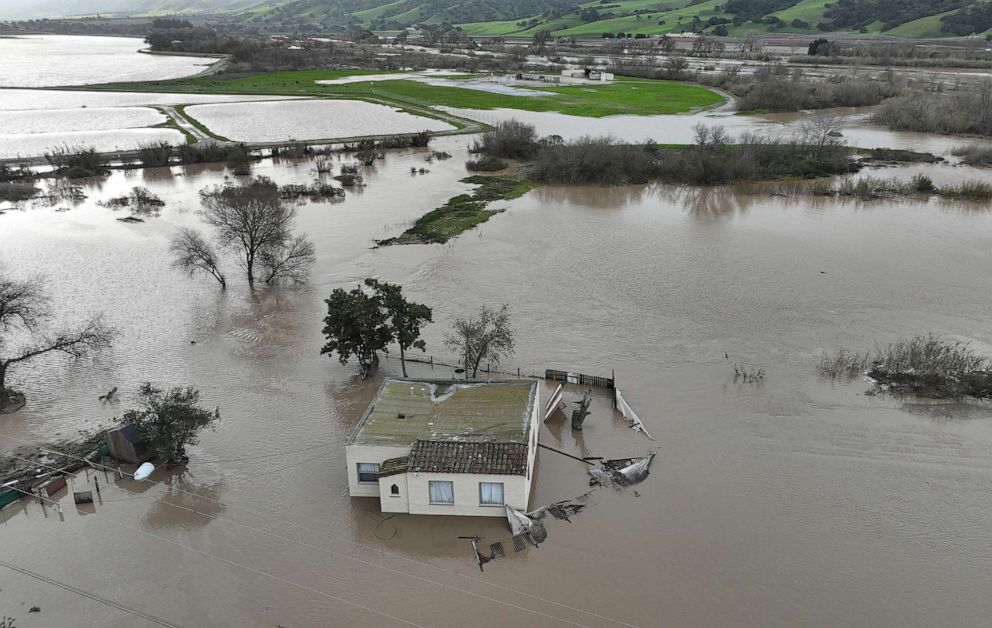 Snow will also continue to fall in the Sierra Nevada Mountains throughout the weekend, with 3 to 6 feet forecast through Monday.
The UC Berkeley Central Sierra Snow Lab reported more than 21 inches of snow in the last 24 hours as of midday Saturday, with the snowpack approximately 10 feet deep. Another 2 to 3 feet of snow is expected to fall by Monday morning, it said.
California has been walloped by a near-constant onslaught of rain and snow. At least 17 people died during a severe storm system earlier this week, state officials said.
The National Weather Service had warned of a "relentless parade of atmospheric rivers" on the West Coast over the coming week.
California Gov. Gavin Newsom urged residents to "be vigilant" as more dangerous conditions were forecast for this weekend.
"I know how fatigued you all are," he said during a press briefing on Friday. "I hope you just maintain a little more vigilance over the course of the next weekend and we'll get through this."
The storms are expected to impact the state until Jan. 18, according to the governor.
Source: ABC News