US President Joe Biden's administration is to build a section of border wall in southern Texas in an effort to stop rising levels of immigration.
About 20 miles (32km) will be built in Starr County along its border with Mexico, where officials report high numbers of crossings.
Building a border wall was a signature policy of Donald Trump as president and fiercely opposed by Democrats.
In 2020, Mr Biden promised he would not build another foot of wall if elected.
His administration passed a proclamation soon after taking office that said building a wall across the southern border "is not a serious policy solution".
On Thursday, however, Mr Biden said he "can't stop" the construction of the border wall because the funding for it had already been appropriated.
When asked whether he believes the wall could work, he replied simply: "no".
In a statement to Associated News on Wednesday night, the US Customs and Border Protection (CBP) similarly defended the latest move, saying it was using funds already allocated for a border barrier.
"Congress appropriated fiscal year 2019 funds for the construction of border barrier in the Rio Grande Valley, and DHS is required to use those funds for their appropriated purpose," the statement said.
Mr Biden and the statements stand in stark contrast to a notice about the project on the US Federal Registry in which Homeland Security Secretary Alejandro Mayorkas said that there is "presently an acute and immediate need to construct physical barriers and roads in the vicinity of the border of the United States in order to prevent unlawful entries into the United States in the project areas".
Speaking at his daily news conference, Mexican President Andrés Manuel López Obrador criticised the announcement, saying that a wall is "contrary" to what President Biden had previously advocated.
"I understand there is strong pressure from extreme right-wing political groups in the United States," he added.
The rising number of illegal border crossings has made the issue a vulnerable one for president Biden.
More than 245,000 crossings have been made this year in the Rio Grande Valley area alone, government data shows, and September is expected to be a record month.
Several US cities say they are feeling the strain of the influx.
New York City Mayor Eric Adams predicted the cost of housing the more than 100,000 new arrivals since last year will rise to $12bn over the next three years.
Mr Adams is travelling to Mexico, Colombia and Ecuador this week to discourage migrants from setting out. "We are at capacity," he said on Tuesday.
Dozens of federal laws have been waived in order to approve its construction, including the Clean Air Act and Safe Drinking Water Act.
The move has angered environmentalists, who say the structures will cut through the habitats of endangered plants and animals.
"It's disheartening to see President Biden stoop to this level, casting aside our nation's bedrock environmental laws to build ineffective wildlife-killing border walls," said Laiken Jordahl, a conservation advocate at the Center for Biological Diversity.
According to a proposal by US Customs and Border Protection, the barriers will consist of large bollards embedded in a concrete base, as well as gates, cameras and CCTV equipment.
Homeland Security said it would use funding secured during Donald Trump's presidency to build the new section.
It is the first time the Biden administration has used its powers to approve the construction of new walls – something that was done often during Mr Trump's time in office, when around 50 miles of new wall was built and 400 miles of existing barriers were upgraded.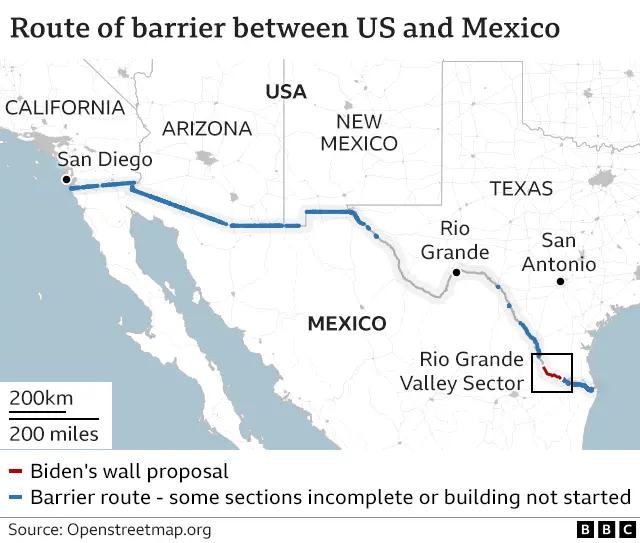 In an online post on Thursday, Mr Trump asked if the president would "apologize to me and America for taking so long to get moving".
"So interesting to watch Crooked Joe Biden break every environmental law in the book to prove that I was right," he wrote. "I will await his apology."
Mr Biden has been facing increasing criticism over his immigration policies in the wake of a recent surge of migrants crossing into the US.
US Border Patrol apprehended 181,059 people along the southern border in August compared with 132,648 in July, according to the latest data.
Mexico's president, Andrés Manuel López Obrador, said that 10,000 people arrived at the border every day last week alone.
Source: BBC