Greg Norman believes he was not welcome at the 2023 Masters. In his traditional pre-tournament address, Augusta National's chairman, Fred Ridley, confirmed precisely that. Ridley refused to offer an assurance that Norman, the chief executive of the rebel LIV circuit, will ever receive an invitation to the opening major of the year.
The schism at the heart of professional golf has put Norman in direct opposition to the PGA and DP World, formerly European, Tours. The Saudi Arabian-backed LIV series has 18 golfers in the Masters field, including six past champions, but Norman is a notable absentee inside this venue's gates. Umpteen other leading administrative figures in the sport are in attendance.
"We did not extend an invitation to Mr Norman," said Ridley. "The primary issue and the driver there is that I want the focus this week to be on the Masters competition, on the great players that are participating, the greatest players in the world, which, by our decision in December, we ensured that we were going to honour and be consistent with our invitation criteria.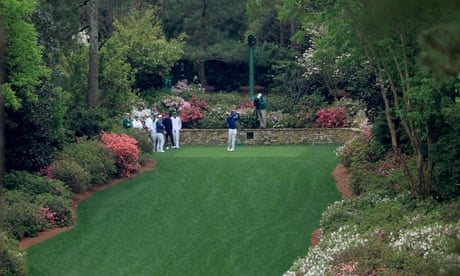 "I would also add that, in the last 10 years, Greg Norman has only been here twice and I believe one of those was as a commentator for Sirius Radio. It really was to keep the focus on the competition."
Ridley's sentiment is almost identical to that of the R&A's chief executive, Martin Slumbers, last July, when Norman was missing from celebrations marking the 150th staging of the Open Championship. Pressed on whether he could foresee Norman, a former world No 1 who played in more than 20 Masters, ever being welcomed back to Augusta, Ridley was noticeably non-committal.
"It's hard to answer that question because I don't know where the world is going to be next year or two years from now," Ridley added.
"I would never say never. But I told you why he had not been invited this year.
"I have noticed a tone. The tone has been really good here this week. I've noticed the players are interacting. Last night at the Champions Dinner, I would not have known that anything was going on in the world of professional golf other than the norm. So I think, and I'm hopeful, that this week might get people thinking in a little bit different direction and things will change. So I would never say never, no."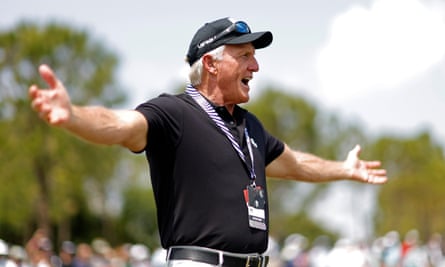 Those of unforgiving mind would point out that if Norman had capitalised on the umpteen opportunities he had to win the Masters, nobody would have been able to prevent him from entering via Magnolia Lane. Instead, he is relying on an offer which shows no sign of being forthcoming.
Ridley's hope for peace in our golfing time feels overly optimistic. Confrontation was never going to happen at Augusta, where participants, coaches, caddies and spectators fear being sent to the stocks for the most trivial of aberrations.Quick Guide
Masters round one tee times
The first round of the Masters is likely to coincide with confirmation that a dozen LIV golfers have lost their sporting arbitration case against the DP World Tour. Here in the United States, the Saudi Arabian public investment fund and its governor are challenging a legal ruling demanding compliance in an antitrust case involving the PGA Tour.
Chatter under Augusta National's iconic clubhouse oak tree almost exclusively surrounds LIV and associated dramas.
If a LIV player – and Cameron Smith, Patrick Reed, Dustin Johnson and Brooks Koepka are well capable – finds himself in the Masters mix it would prove quite the storyline.
Ridley was on more comfortable ground when discussing the plans of the R&A and United States Golf Association to offer a local rule where players in professional events could play a modified or "rolled back" golf ball. The governing bodies have become increasingly – if belatedly – concerned by driving distances.
"We have been consistent in our support of the governing bodies and we restate our desire to see distance addressed," said Ridley. "In a general sense we do support the proposal but because it's in the middle of a comment period, it could change.
"The whole purpose of the comment period is to take the input from the industry. So we will look at the final product and make a decision. But generally we have always been supportive of the governing bodies. I've stated that we believe distance needs to be addressed. I think the natural conclusion is, yes, we will be supportive."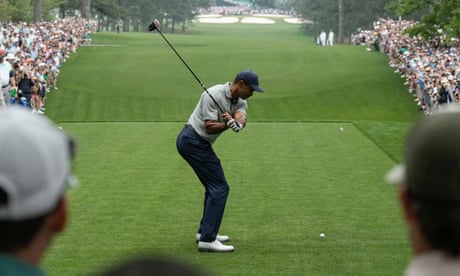 This places the ball, almost literally, in the court of the PGA and DP World Tours. Neither have been particularly welcoming of changes to the golf ball until now. Without their support, elite golfers could be in the bizarre position of playing a different ball for the four majors than they will for standard tournaments.
The golf world has never been such a zany place.
When play gets under way, Rory McIlroy will make his latest attempt to become only the sixth player in history to complete a clean sweep of majors. Scottie Scheffler, the defending champion, is seeking to continue a quite extraordinary competitive run which dates back to the Ryder Cup of late 2021. Back- to-back Masters triumphs, though, are rare. Jon Rahm, who has four top 10s in just six Masters starts, should be the overall favourite to prevail.
At the other end of the Masters spectrum, both Sandy Lyle and Larry Mize will bid playing farewells to Augusta. Mize was unable to speak during Tuesday's Champions Dinner, having been overcome by thoughts of days gone by.
"It was an emotional dinner," said fellow past champion José María Olazábal. The Masters, as they say, is all about tradition. It is just that the complexities attached to the modern golf scene are impossible to ignore.
Source : TheGuardian