It is 11:00 on a bright London morning and Arnold Schwarzenegger is a man who knows what people want. When I enquire if the ongoing actors' strike means I will have to be the one doing his best-known catchphrases, he does not hold back.
The lines from Predator and Terminator ring out amongst dumbbells and running machines. "The actors' strike forbids you to promote your movies, but I don't have to promote those," he protests.
Even at the age of 76, Schwarzenegger is not someone with whom you would argue over trade union small print. This is where industrial action meets action hero.
We are perched on adjacent gym benches filming an interview for BBC Breakfast at Guardians Personal Training centre, situated at Parliament Hill Lido, and have the place to ourselves. "Better gym than I had this morning at Claridge's," he booms enthusiastically, whilst also subtly letting me know that he has already worked out today.
My cameraman Peter has written Arnold Schwarzenegger on his clapperboard and turns to him, worriedly asking: "Please tell me I spelt your name correctly?"
I can confirm it takes even Arnold Schwarzenegger a full two seconds to spell-check his own name, before he looks up and smiles: "Yes."
One clap later and the interview can begin.
I'll be book
Arnold Schwarzenegger is in London to talk about his new book Be Useful: Seven Tools for Life, which is receiving support in unlikely places. The Guardian is not known for its love of Republican politicians, but its review concluded: "An improvement guide which actually works."
The Los Angeles Times was rather less enthusiastic saying, "The writing doesn't pump much iron," while still admitting: "Did I work out a little harder after reading the book? You bet."
And that is exactly what Arnold ("He prefers Arnold to Arnie", his security guard tipped us before he arrives) is hoping for with the book.
The seven chapters include Work Your Ass Off, Never Think Small and Shut Your Mouth Open Your Mind.
"The idea behind it is just for people to become more successful," he clarifies.
"It was one of those things I never dreamed of, to be a motivational speaker, or to write motivational books, because when I grew up all I wished was just to be the most muscular man in the world," says the seven-time winner of Mr Olympia and four-time Mr Universe, before adding: "And to get into movies and to make millions of dollars."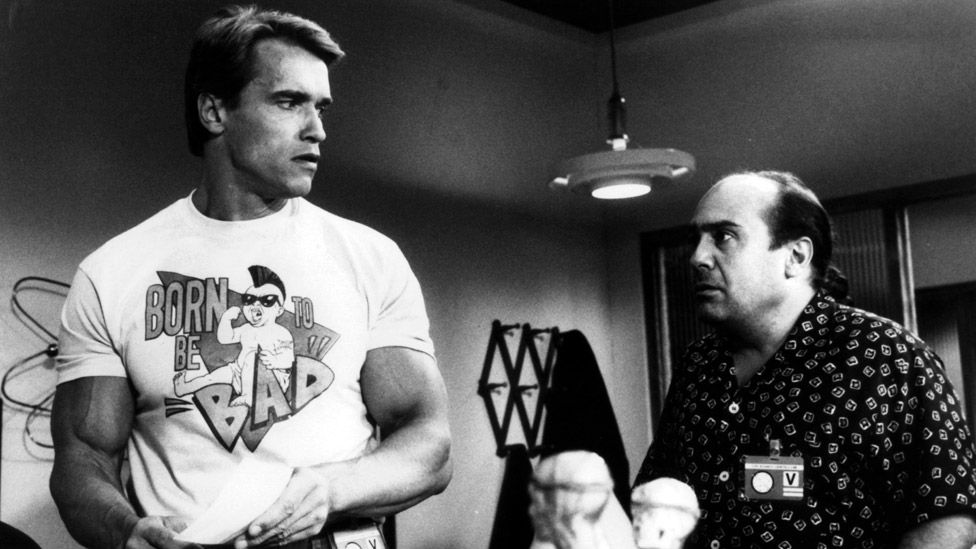 Things changed though after two decades of box office hits, including Conan the Barbarian, Twins and True Lies,
Suddenly he had "new dreams" and "new goals" and found that: "People really needed to be motivated and were looking to me for answers. They admired what I had accomplished, and I saw there an opening and a need and that's how this book came about."
I ask if self-help is a dirty word and his answer reveals what he believes to be a common misconception about him: "We need a combination of helping ourselves, but also to get help from the outside. I always hate when people say to me, 'You are the perfect description of a self-made man.'
"I hate that," he repeats a little more forcefully.
"I don't want anyone to think that they can do it themselves. We all need help."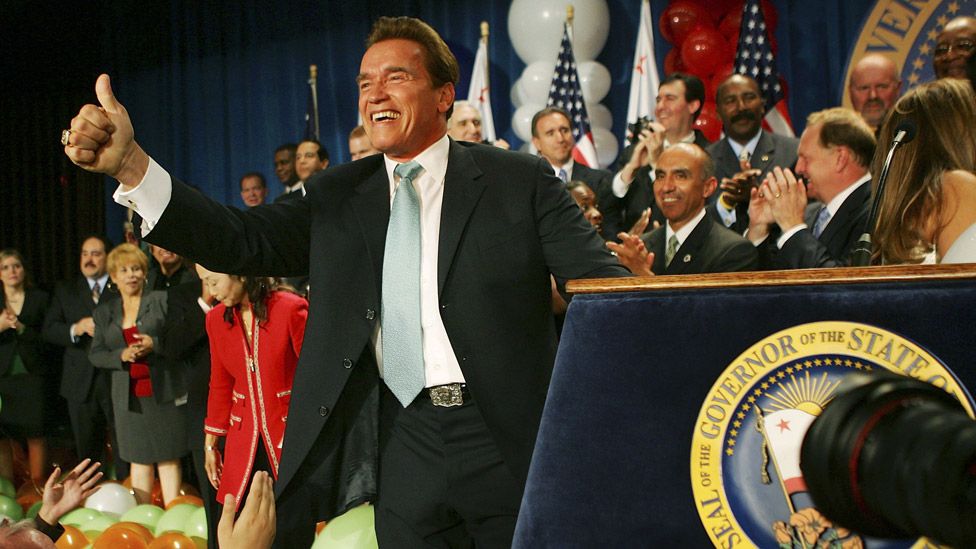 What follows is a long, long list of people, without whose help and inspiration Schwarzenegger says he would not have made it. They range from Reg Park, the Leeds-born bodybuilder who starred in 1960s Hercules films, to the "5.8 million people who voted for me", referring to his two terms as the Republican governor of California.
"I explain in the book that we should all reach out for help and as soon as you have realised that, then you also recognise the fact that you have also got to help other people."
Helping others is something Schwarzenegger has spent the last three decades doing; from being involved with the Special Olympics, to donating $1m (£800,000) to front-line responders during the pandemic and hosting an Oktoberfest poker-themed dinner party earlier this month, which raised $7m (£5.8m) for his after-school clubs programme. Lederhosen were sported.
Schwarzenegger is keen for people to know, though, that he has also experienced serious lows.
"There were tremendous defeats and tremendous losses," he shares, before detailing bodybuilding contests where he was beaten and films which bombed at the box office. (His worst actor nomination for playing Mr Freeze in Batman and Robin was a particular career nadir).
"And there have even been personal losses like my marriage," he continues, displaying a willingness to be vulnerable, that seemed unlikely as he killed 77 people in one scene at the climax of Commando.
Be Useful does not go into the details of the extramarital affairs, including getting the nanny pregnant, which led to his divorce from John F Kennedy's niece Maria Shriver. He dealt with all that in his 2012 autobiography Total Recall. It does however reveal how he picked himself up from a time he describes in the introduction to the book as "his world coming crashing down around him".
"You have to be responsible for those mistakes. You cannot go and blame someone else for it. Take responsibility. Take ownership of those mistakes and learn from that and then come back and be a better person."
Despite all his achievement there is one thing Arnold Schwarzenegger will never be – the president of the United States.
The US constitution states that anyone holding that office must be a natural-born citizen. Schwarzenegger hails from Thal, Austria, where he lived until the age of 19.
I ask him how much of an annoyance he finds his disqualification.
"I feel like I would make a great president," he says without displaying a shred of self-doubt, before continuing: "But I feel that, at the same time, everything I've accomplished was because of America.
"America gave me so many opportunities and the American people were so embracive, and they just received me with open arms. There was no-one there that stopped me from my success.
"So the only thing that I can't do, which is run for president, I'm not going to complain about that."
What is clear is that he has not fully given up hope of one day occupying the highest office in the land: "I mean OK there is the constitution. We need some immigration reform, absolutely, to change that. But it would be a little bit selfish if I go out and try to change the law."
He is certainly not excited by next year's possible presidential race between President Joe Biden and Donald Trump. "I just hope that America finds some really young blood," he says.
"Because to me, it is a little bit odd that we are having a battle between people today in the late seventies and early eighties rather than people that in the forties and fifties or maybe even younger and have them have a chance at this great, great job."
He's a Barbie boy
Finally, it is clear that Schwarzenegger still loves the film world, talking enthusiastically about unspecified forthcoming projects.
The last film he saw at the cinema was Barbie, which he describes as "brilliantly made". I float the idea that if it had been an 80s film, then he might have been in the running to play Ken. "There's a good character in there," he enthusiastically agrees.
I also enquire as to why the era of the big star who can open a film on their name alone is over. Think Schwarzenegger, Stallone, Bruce Willis in the 1980s.
"I hope my son-in-law Chris Pratt doesn't hear that," he laughs, his daughter Katherine having married the star of The Guardians of the Galaxy and Jurassic World films.
"You're right though," he agrees. "The stars that are being developed today are much more based on the name of the franchise. They become a big star because they did Batman, or they did Superman, Wonder Woman, rather than them carrying the movie."
"Every 10, 20 years, everything changes in the entertainment industry," he concludes.
If anyone knows that, it is Arnold Schwarzenegger, who says his goodbyes and departs to prepare for an "Evening with" show at the Royal Albert Hall. The venue is sold out and there is no doubt that he understands what the capacity crowd will be hoping to hear.
Once again his catchphrases will, quite literally, be back.
Source: BBC